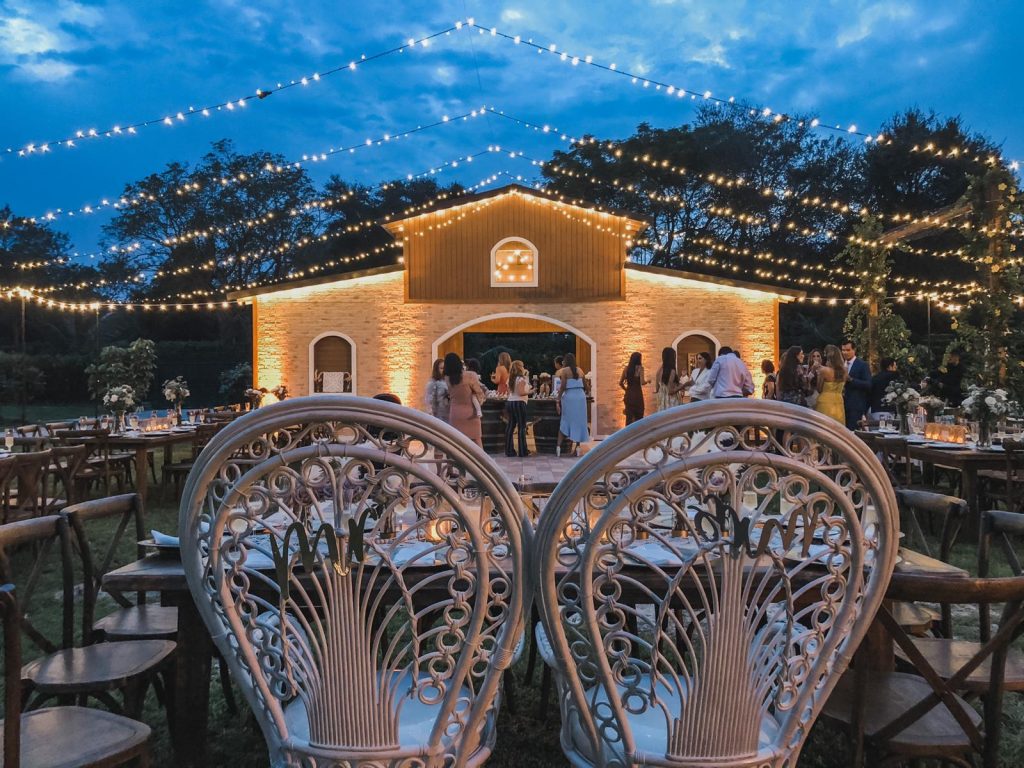 RUSTIC WEDDING VENUES RENTAL – CINCO FARM PRICING
When looking for the perfect rustic wedding venues for your wedding you must consider the expenses that trendy furniture rental cost is, as well as all the accent elements and decor you want to bring in. All the fun details, right? These wedding products, as well as a beautiful luxury tent, can become very expensive to fulfill that extraordinary outdoor boho vintage garden style wedding.
When you compare venue fee+ beautiful wedding tent + romantic lights + furniture and linens, Cinco Farm is one of the most affordable and charming rustic wedding venues in the Redlands, Miami area. That means with a small budget (making great use of our included decor and naturally beautiful space), a large budget (with amazing florals, a designer dress, and a well-known wedding planner), or something in between, Cinco farm may be the perfect fit for your wedding day.
A great feature of this one of the best boho wedding venues is that Cinco Farm does not have a minimum guest count or food and beverage minimum, where you can bring your own catering company or choose one of our preferred vendors plus the usage of wedding and event decor products available in stock for use at no extra cost.
We have a la carte pricing which allows to reserve the venue for a small fee and order the party rentals and furniture you need for your celebration. This option is great for intimate weddings and corporate events.
Outdoor Wedding Venue Package
| | |
| --- | --- |
| GOLDEN WEDDING PACKAGE | BASIC WEDDING PACKAGE |
| STARTING $7,500 |  STARTING $5,500 |
---
GOLDEN WEDDING VENUE PACKAGE PRICES,
Including up to 150 guests. Additional guest p/p $29:
-Weddings in 2022.
Weekdays 2022: $7,500
Friday and Sundays:  $8,900
Saturdays:  $9,450
-Weddings in 2023.
Weekdays 2023: $7,500
Friday and Sundays:  $9,000
Saturdays:  $11,950
-Weddings from 2024 onwards
Price to be arranged.
-Weddings from 2025 onwards
Price to be arranged.
PRICES ARE SUBJECT TO CHANGE WITHOUT PRIOR NOTICE.
What is included in the Golden venue package?
-Venue
-Exclusive access to the 5 acres property venue.
-Beautiful paver floors for the reception area and walkway.
-Elegant tent $5,000 value.  An incredible way to shelter guests from the elements while allowing the viewing pleasure of the natural surroundings to still be a focal point of the event. This size tent will cover up to (30) 60" round tables, 300 chairs or (14). Open spaces available next to the tent for larger groups for extra tables and/or additional tents. Please inquiry for additional tents pricing.
-Vintage and classic decor items.
-Up to 2000' of bistro lights and 8 LED up-lights included $2,500 value. -Use of our fireplace at our rustic wedding barn at no additional cost.
-Cinco Farm team member onsite throughout the evening in case of assistance.
-Several ceremony locations (the choice between the Bayan-tree, Centenary Oak tree, the Green landscape or in front of the Barn).
-Multiple photography spots that will last a lifetime.
-Basic Decoration inventory included:  Food and beverage display, Easels wood and gold, Large lanterns, Plate chargers, Cake stands, silver, gold or wood, 6 Wine barrels, Candle holders & much more.
WOODEN CROSS-BACK CHAIRS
Create a charming and inviting ambiance at your wedding with this stylish chair. The designer cross back adds a modern, yet classic appeal to conform in different settings. This durable chair is made of solid wood material $1,500 value. Setup to your specification.
PADDED CEREMONY CHAIRS
Our stylish ceremony chairs include a white padded seat. This stylish chair is a favorite for its comfortable feel and conveniently portable design. $500 value.
TABLES (60" round tables, 8 feet long rectangular tables) Cocktail tables are 36" round and 42" tall.
DANCE FLOOR
Up to 18′ x 18′, our all-weather dance floor combines excellent quality and a neutral appearance. Perfect for your special day.
CEREMONY ARCH
Take your ceremony to new heights and frame the moment you become newlyweds with our wooden ceremony arch. A blank canvas, our arch is ready to be decorated to reflect the mood of your special day. Various options $200 value.
LINEN PACKAGE
Solid polyester tablecloth the color of your choice. Please ask for color napkin availability. Premium tablecloth is available at additional cost.
DESSERT BAR OR BEVERAGE BAR
Made of reclaimed wood and rusted metal, our dessert bar perfectly complements our rustic farm tables and cross-back chairs.
Beautiful dressing area of one of the best rustic wedding venues, perfect for pictures.
Private Parking lot (with lights).
Bar Station.
Caterer's preparation area including two preps tables.
1 Hrs. Rehearsal date during the week venue access
No hidden fees.
---
BASIC WEDDING PACKAGE
Venue only (Golden Package NOT Included)
What is included in the Venue?
-The 5-acre property
-Capacity: Up 300 guests
-Private Onsite Parking
-Your event has exclusive use of the venue for the day from 11:00am-11:00pm. Vendor move out up to 1 hour after the event.
-Covered and elegant space reception with White decorated tented area with white drapes, fans and bistro lighting to dazzle your guests (average industry price over $5000+)
-Paved reception area 36'x 108' & Walkways
-Access to the oldie farmhouse to get ready + Bridal Suite (total Approx. 2000 Sq. Ft)
-Up to 5 hours event (Ceremony, cocktail and reception)
-Rehearsal 1 hours Complementary
-Ceremony areas available under beautiful trees.
-Lovely picture opportunities in our gardens with several unique backgrounds.
BASIC WEDDING PACKAGE PRICES:
-Weddings in 2022 (Venue package of Tables, Chairs, Bars, Dance Floor, Linens and Basic Décor NOT Included)
Weekdays 2022 $5,500
Friday and Sundays $6,500
Saturdays $7,500
-Weddings in 2023 (Please note: Venue package of Tables, Chairs, Bars, Dance Floor, Linens and Basic Décor NOT Included)
Weekdays 2023: $5,500
Friday and Sundays:  $7,000
Saturdays:  $8,500
-Weddings from 2024 onwards (Package of Tables, Chairs, Bars, Dance Floor, Linens and Basic Décor NOT Included)
Weekdays Price to be arranged.
Friday and Sundays to be arranged.
Saturdays to be arranged.
House rental (optional) $1,500 Add the day before from 3pm (Decorate, rehearse, or have your rehearsal dinner on site).
PRICES ARE SUBJECT TO CHANGE WITHOUT PRIOR NOTICE. Outside vendors allowed with proper license and insurance.
What is not included in the package price?
-Catering service as (food, drinks or ice)
-Dinnerware as: china, glassware and flatware
-Servers and bartenders
-Wedding planner or coordinator
-Specialty linens
-Wedding officiant
-Valet parking or parking assistant
-Photography & Videography
-Beauty assistants
-DJ & music lighting, MC or sound system
-Flower arrangements
-Staff to decorate special requests
We can always help you arrange all this services to create the most memorable wedding day!
Catering Options (Coming soon)
Cinco Farm has partnered with qualified and experienced wedding vendors with several delicious menu options to suit your budget.
Click here to see caterer's information and sample cost of a wedding of 150 guests.
Find out more about one of the most beautiful rustic wedding venues in three easy steps: